News Service | Filtered by School News (ENG)
News Feed
Primary Interhouse Chess 2019
Primary Inter House Chess 2019 by Nicholas and Maria
The Inter House Chess has arrived and all the houses can't wait to play each other. Only the final is left to play and the houses Gaudi and Newton are both desperate to win. The 3rd and 4th place have already been decided. In 4th place was Churchill with a total of 16 points and in 3rd place was Cervantes with a total of 26 points.
The first round, Gaudi vs Cervantes was played on the 12th February 2019, it was a very close game. In Year 3 and 4, Cervantes won, but they had to join all the points with Year 5 and 6 so, in 5 and 6, Gaudi caught up with Cervantes leaving them behind . The score was 32 to 30 and Gaudi won!
The second round, Churchill vs Newton was played the 19th February 2019. In Year 3 and four, Newton won, and in Year 5 and 6, they also won. So all together, Newton had 25 points and Churchill had 9. Which meant that, unfortunately for Churchill, Newton won.
The final is still left to play by Newton and Gaudi which took place on the 5th March 2019. Both teams were very excited and wondering which one will be the champion of Inter House Chess, 2019….
The final finally arrived and the winner of Inter house chess 2019 is … Gaudi with a total of 23 points! However, not far behind was Newton with 21 points. In 3rd place is Cervantes and 4th is Churchill.
sing the editor above to adjust formatting.
Duke of Edinburgh Gold Practice
Duke of Edinburgh Gold Practice
Four intrepid Year 13's set out on their Gold D of E practice expedition last weekend to Sierra Espuña.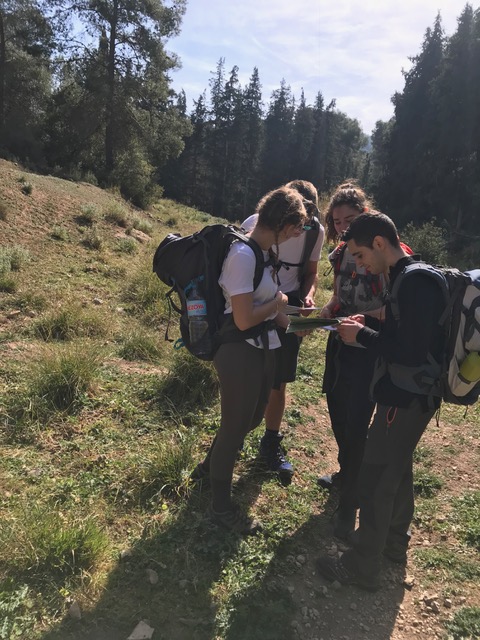 The weather made the three day long trip enjoyable and the pupils proved they can carry a heavy rucksack and be self-sufficient for a few days, sleeping in tents and preparing their own food. Their map reading skills were a bit rusty, but they soon got the hang of it again. The team are now looking forward to the Assessed Expedition in April, in which they will be walking a total of 76 km, carrying everything they need for four days, on their backs.
Mrs Bengtsson
Enter your news text here using the editor above to adjust formatting.
World Book Day 5th March 2019
World Book Day Primary and Secondary 2019
In King's College, Murcia we celebrated World Book Day with a reading extravaganza in which we incorporated our carnival celebration. As usual, the children began the day with a parade, but this time this included several dances adapted with a reading twist (thanks to Mrs Foy!) and readers from Primary who entertained us with extracts from their favourite books. Parents were invited to join us on the tennis courts so we could show off our characters. It was a fantastic turnout and the children thoroughly enjoyed it. Many thanks to parents for the wide variety of imaginative costumes.
Throughout the day all of the children's learning was based upon reading. There were quizzes, front cover decorations, reading crowns and every class from pre-nursery to Year 6 were treated to a short story from a sixth form student, which was a real highlight of the day.
To promote a love of reading, both in school and out of school, we arranged for the Costa Blanca Book People to come into school for two days with their huge array of books on display. Children were taken during class time and parents were able to visit after school.
In Secondary, teachers participated in a 'Guess the Teacher' with pictures of different teachers holding their favourite novel! Furthermore, they made World Book Day posters to promote the event, book reviews and posters on their favourite authors, which are displayed in the Primary library. Overall, it was once again a fantastic and very enjoyable celebration! Thank you to everyone who helped to make this such a great day.
Ms Campbell and Mrs Williams
Enter your news text here using the editor above to adjust formatting.
50th Anniversary Celebrations
We kicked off the 50th Anniversary celebrations with
a ceremony to commemorate this landmark. Mr Francisco Martínez buried the time capsule with Manuel and Blanca, our Head Boy and Head Girl.
Mrs Inmaculada Concepción Martínez unveiled the commemorative plaque with Benita and Rupert, our Deputy Head Girl and Deputy Head Boy.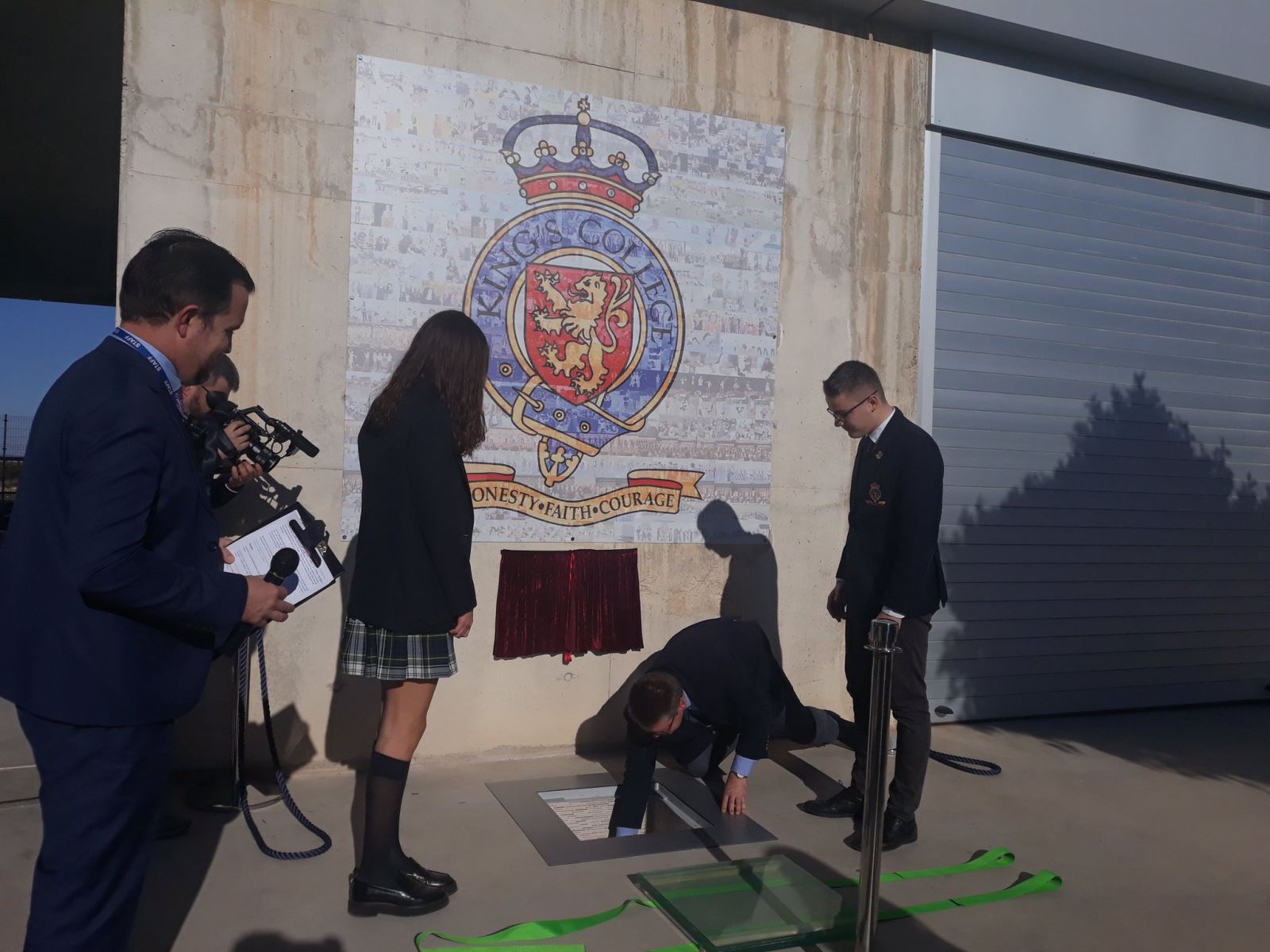 Variety Performance
Last Friday 1st February 2019, Kings College Murcia hosted our annual talent show, the King's Variety Performance, displaying an extravaganza of different talents, from dance to singing ,and playing musical instruments, to doing gymnastics displays!
Over 60 pupils took part from Years 3 to 7. All students had previously auditioned for a place in the show. Sadly, not all children who auditioned got a place in the final show but I'm sure will try again next year.
The afternoon performances were full of energy and enthusiasm and were enjoyed by all.
Many thanks to all the children who took part and we look forward to next year's show!
Well done everybody!
Mrs Fellows
KCM Basketball
King's College Murcia attended the third annual inter-school basketball event on Monday 18th January and were highly successful.
The school entered 6 teams and finished the day with 5 of them undefeated. The Year 7 Boys and the Year 7 and 8 girls won their section by winning all their games, with Daniel G and Rocio G playing key roles.
The Year 8 boys won 3 out of their 4 games and came second in their group, with Alex S. being the standout performer. The Year 9 Boys were outstanding and won all their games in a tough section. Pablo C. was exceptional. The Year 9 girls came second in their group and were unlucky to draw a key game which would have given them the win. Jing Tong Z played a key role.
The Year 10 boys were very strong and also won all their games despite losing a key player to injury. Ramon P. scored many of their points. Combining the results, King's College Murcia finished overall winners by a convincing margin. The results were exceptional and all the students represented the school to an exceptional level, playing with great passion.
The Outdoor Classroom - Monday 21st January
Geography students can study the agricultural methods in their classroom, but there is nothing like experiencing the real world, outside our windows.
Our GCSE and AS level students were offered a fantastic opportunity to visit an multinational company, G´s Espana, and learn about the whole agricultural process from the seed to harvesting. The students had a practical introduction to how the seeds were prepared, germinated, seedlings produced in the polytunnels, and finally the planting and harvesting. We got to plant our own broccoli, lettuce or celery and get to taste the final product!
Murcia really is a world leader in providing food to two continents, and we got to understand just what we had passed driving to and from the school. Thank you to everyone for a fantastic experience.
Dr Browne
Test Article English
Enter your news text here using the editor above to adjust formatting.