News Service | Filtered by School News (ENG)
News Feed
Key Stage 1 Sports Day
KS1 Sports Day
On Friday 3rd May at 3 pm, King's College Murcia held the KS1 Sports Day. It was a glorious day and the children were full of excitement as they entered the football pitch and got themselves into their houses. After a fun warm-up with staff and sports leaders, the children prepared themselves for their first event which was the triple jump. All the Year 1's went first and then all the Year 2's. After three great jumps from everyone, it seemed the winning house for Year 1 was Cervantes with Daniel doing 3 amazing jumps and Churchill for Year 2 with Pablo doing some fantastic jumping.
Then we had bean bag throwing. This time all the girls competed together and then all the boys. The sports leaders were shocked at how far some of the children could throw, especially Aisha and Hugo for Gaudi and Harry and Carmen for Cervantes. Gaudi girls won that event along with Cervantes boys.
The next event was the balancing of the beanbags and the houses had to get everyone across the line, sat down with their cone held up to win. This was a very close event and Newton girls just beat Gaudi girls in this event and Churchill boys all managed to cross the finishing line first. Some impressive techniques were used by Valentina in Newton and Adrian in Churchill as they both ran ahead of everyone with the beanbag on their heads, arms by their sides and they didn't drop the bean bag once.
The hoop skipping race took place next and we had some great skipping from Alejandro in Newton and Paloma in Cervantes. Cervantes boys came first in that event and Newton girls. After a well-earned water break, the next event was the obstacle course, the event the children all thoroughly enjoy taking part in.
For our demonstration, our lovely interns competed in the obstacle course to help earn points for their house and there were some very interesting interpretations of the course as Mr Knight leapt over the chair at the end rather than go under it. It was a very close finish and Miss Lyne for Gaudi was the overall winner. Then the children all lined up ready to go and they all worked extremely well together. Newton was extremely quick and finished first, followed by Churchill, Gaudi and then Cervantes.
Then the parents took part and what an intense competition this was with Carlota's dad from Gaudi winning. Our final event of the day was the flat races and this was a very close finish amongst all the houses. The overall winners were Newton girls and Cervantes boys. Again our parents took part in this and it was Chloe's dad in Cervantes who won a very fast dad's race and Nate's mum in Newton who won an equally fast mum's race. After adding up all the scores the winners for the KS1 Sports Day were Newton, followed by Cervantes and in equal third place with the exact same points were Gaudi and Churchill. The children were undoubtedly fantastic and I have no doubts we have future athletes in KS1.
I would like to say a huge thank you to all the parents that turned up to support the event and all the wonderful children in KS1 whose behaviour and sportsmanship was impeccable. All the amazing staff; teachers, teaching assistants, interns and our fantastic sports leaders. Mr Mills (whose next job is to be a commentator at the Olympics) and Miss Willett for all their help in preparing the children in each of the events. Additional thanks to Pedro, Mr Brett and Jose Luis.
Mrs Foy
Gold Duke of Edinburgh Award - Cabo de Gata
Eighty kilometres on foot in four days along the coastline of Almeria was what four KCM pupils chose for their Gold D of E assessed expedition. Cabo de Gata proved the ideal setting, with challenging navigation, hilly terrain and a sprinkling of hostels to accommodate the travellers. The weather was a little too good, staying dry, but causing sunburn despite the lashing of suntan lotion applied. Another hazard were the blisters, as walking twenty kilometres a day in warm weather meant frictioned feet.
The Year 13 pupils set off from near Carboneras on Wednesday morning, carrying everything they would need for the four days in rucksacks on their backs. They stopped every two to three hours to refuel and rest in the scarce shade they could find. The night stops were in Agua Amarga, Isleta del Moro and San José, with the route ending near the tip of Cabo de Gata. Travelling in this way meant they saw parts of Spain many people never set eyes on, hidden coves, regal ruins, hippy communes and deserted beaches.
Despite being exhausting, the experience proved unforgettable and enjoyable, with the four participants showing excellent teamwork skills, resilience, positive mindset and determination, all of which are what the D of E is famous for promoting.
Well done to Blanca, Maria, Alberto and Dylan; you should all be extremely proud of your achievement.
By Sally Bengtsson
Duke of Edinburgh Bronze Award Expeditiion KCM
Enter your news text here using the editor above to adjust formatting.
Duke of Edinburgh Bronze Award- KC Murcia
Thirteen of our Year 10's passed the Adventurous Journey section of their D of E Bronze award last weekend. Braving Moratalla's grey skies, damp days and chilly evenings the pupils walked a total of 28 kilometres over 2 days, sleeping in tents, preparing and cooking their own meals and navigating over hills and through forests using only maps and compasses. The pupils stayed in high spirits over the two days and were a pleasure to be around, impressing staff and volunteers with their resilience and positive mind set in rain and cold. The experience proved enjoyable, with pupils bonding with each other through the team work involved.
In March a practice expedition had taken place in Sierra Espuña, and the pupils' culinary skills came to light as dishes of fresh tomato pasta , scrambled eggs and salmon, lomo on fried bread with crushed garlic, onions and cheese, were all prepared on a camping gas stove on picnic tables in the middle of the forest.
The experience was rounded off with a presentation given by the pupils about the expedition. One group gave a short talk on the wild flowers seen on their walks while the other group entertained us all with a beautifully edited video diary.
Congratulations to all participants, and a big thank you to the staff and volunteers who made it all possible.
Sally Bengtsson 10-4-19
Early years Sports Day 2019
Early Years Sports Day
On Friday 5th April the Early Years Sports day took place on the large patio. The children came out in their groups with faces painted and music blaring, creating a fun atmosphere for all.
There were six exciting events that the children in Pre-nursery, Nursery and Reception had to compete in. They jumped over hurdles, raced to the cones and back, balanced bean bags, threw bean bags, shot goals and completed an obstacle course. It was evident that the children thoroughly enjoyed each event as every child participated, some with a little help and encouragement, but they clearly enjoyed the challenge of the events.
After every group had completed all the six different stations; the Reception class then went on to a more competitive situation. They were split into their house teams to take part in competing against each other in the same events. First, we had the triple jump and saw some excellent jumping from Alvaro, Rita and Julia in Newton, then we had some fantastic throwing from Miguel, Martina, Gonzalo and Pepe from Gaudi. The Churchill team, with Oscar, Alicia and Pablo, were really quick when jumping in the sack race. Cervantes, which consisted of Guillermo, Mary and Marina, were extremely fast in the running race. It was fantastic to see all of our young athletes giving everything a try; we could have future Olympians among us!
We always like to finish with a parents' race and it was great to see so many parents geared up and ready to run. First we had the mothers who were so quick; I think many had been training for this event. It was a very close finish and Isaac's mum, our very own Mrs. Wilmhurst, just pipped Marina's mum to first place. Next, we had the fathers, who were equally as impressive, Rita's dad got first place with Mr. Brett coming in a close second.
All in all, it was a fun filled event and enjoyed by everyone. I would like to say a huge thank you to all that helped and participated and especially to Miss. Willett, who has been working with both the Reception and Nursery children, along with Miss. Lyne.
Inter School Netball, 22 March 2019
On Friday 22nd March, King's College Murcia hosted the first Interschool Netball event! Our sister school Alicante participated, as well as El Limonar Villamartin. It was a day filled with excitement and determination with matches being played on both the inside and the outside courts.
It was great to see mixed teams across the year groups and, as with all sports, the tension between some of the games was very intense, especially when there was only 1 point between the two teams!
It was great to see our Year 6 girls, Isabelle, Mia, Adi and Millie playing for our Year 7 A mixed team who became joint winners of their category along with King's College Alicante A team. Our Year 9's won their category, as did our Year 9/10 and Year 10 girls, making King's College Murcia the overall winners of the tournament! What an achievement!
We had some outstanding players in each Year group, Isabelle C, Rebeca F, Ricardo L, Carmen R, Maria, Sofia, Pablo and Triniti. It goes without saying that myself, Miss Thompson and Mrs Clarke were all extremely proud of every child that participated! They showed great netball skills in the matches and great sportsmanship and teamwork throughout.
I would like to say a huge thank you to Miss Thompson and Mrs Clarke who helped with the coaching and umpiring of matches and ensured the day went smoothly.
Mrs Foy
World Happiness Day 2019
On Wednesday 20th March, we recognised and celebrated World Happiness Day.
Since 2013, the United Nations has celebrated the International Day of Happiness as a way to recognise the importance of happiness in the lives of people around the world and they encourage people around the world to join in.
All day, in every Primary classroom, special activities were going on. We were making posters, creating movies, painting, reading and dancing our way to happiness! The day ended with a fantastic assembly with all of Key Stage 2 singing songs about happiness and our wonderful dancers performing happy dances. Thank you to all those parents who came and supported our special day by attending our assembly - we hope you enjoyed the smiles!
Mrs Rumistrzewicz
Primary Interhouse Chess 2019
Primary Inter House Chess 2019 by Nicholas and Maria
The Inter House Chess has arrived and all the houses can't wait to play each other. Only the final is left to play and the houses Gaudi and Newton are both desperate to win. The 3rd and 4th place have already been decided. In 4th place was Churchill with a total of 16 points and in 3rd place was Cervantes with a total of 26 points.
The first round, Gaudi vs Cervantes was played on the 12th February 2019, it was a very close game. In Year 3 and 4, Cervantes won, but they had to join all the points with Year 5 and 6 so, in 5 and 6, Gaudi caught up with Cervantes leaving them behind . The score was 32 to 30 and Gaudi won!
The second round, Churchill vs Newton was played the 19th February 2019. In Year 3 and four, Newton won, and in Year 5 and 6, they also won. So all together, Newton had 25 points and Churchill had 9. Which meant that, unfortunately for Churchill, Newton won.
The final is still left to play by Newton and Gaudi which took place on the 5th March 2019. Both teams were very excited and wondering which one will be the champion of Inter House Chess, 2019….
The final finally arrived and the winner of Inter house chess 2019 is … Gaudi with a total of 23 points! However, not far behind was Newton with 21 points. In 3rd place is Cervantes and 4th is Churchill.
Duke of Edinburgh Gold Practice
Duke of Edinburgh Gold Practice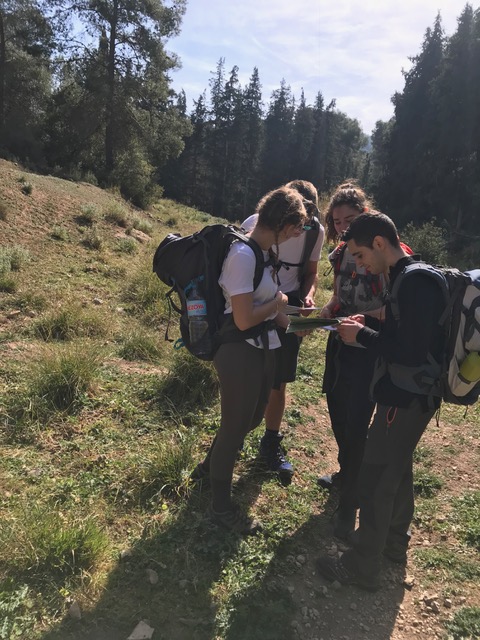 Four intrepid Year 13's set out on their Gold D of E practice expedition last weekend to Sierra Espuña. The weather made the three day long trip enjoyable and the pupils proved they can carry a heavy rucksack and be self-sufficient for a few days, sleeping in tents and preparing their own food. Their map reading skills were a bit rusty, but they soon got the hang of it again. The team are now looking forward to the Assessed Expedition in April, in which they will be walking a total of 76 km, carrying everything they need for four days, on their backs.
Mrs Bengtsson
Enter your news text here using the editor above to adjust formatting.
World Book Day 5th March 2019
World Book Day Primary and Secondary 2019
In King's College, Murcia we celebrated World Book Day with a reading extravaganza in which we incorporated our carnival celebration. As usual, the children began the day with a parade, but this time this included several dances adapted with a reading twist (thanks to Mrs Foy!) and readers from Primary who entertained us with extracts from their favourite books. Parents were invited to join us on the tennis courts so we could show off our characters. It was a fantastic turnout and the children thoroughly enjoyed it. Many thanks to parents for the wide variety of imaginative costumes.
Throughout the day all of the children's learning was based upon reading. There were quizzes, front cover decorations, reading crowns and every class from pre-nursery to Year 6 were treated to a short story from a sixth form student, which was a real highlight of the day.
To promote a love of reading, both in school and out of school, we arranged for the Costa Blanca Book People to come into school for two days with their huge array of books on display. Children were taken during class time and parents were able to visit after school.
In Secondary, teachers participated in a 'Guess the Teacher' with pictures of different teachers holding their favourite novel! Furthermore, they made World Book Day posters to promote the event, book reviews and posters on their favourite authors, which are displayed in the Primary library. Overall, it was once again a fantastic and very enjoyable celebration! Thank you to everyone who helped to make this such a great day.
Ms Campbell and Mrs Williams
Enter your news text here using the editor above to adjust formatting.
50th Anniversary Celebrations
We kicked off the 50th Anniversary celebrations with
a ceremony to commemorate this landmark. Mr Francisco Martínez buried the time capsule with Manuel and Blanca, our Head Boy and Head Girl.
Mrs Inmaculada Concepción Martínez unveiled the commemorative plaque with Benita and Rupert, our Deputy Head Girl and Deputy Head Boy.